Sample Export Compliance Manual
The hardest part of creating an export compliance program is knowing where to start.
The Sample Export Compliance Manual published by ExportRules.com originally began as a consulting project for one of the largest defense contractors in the United States. After publication, we adapted many of the industry specific procedures to fit a more general company profile and serve as a template for the export community.
Since that time, this manual has been used by hundreds of exporters, freight forwards, and compliance specialists including some of the most well-known names in the industry.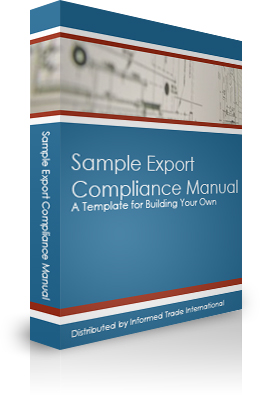 Add to Cart
Normal Price: $299.95
Sale Price: $249.95
Save time and money
We've done the research and left you with a fill in the blank starting point for your export program.
This work represents weeks of intense writing, rewriting, and reviewing by licensed US Customs brokers and export professionals. It's designed as a starting point for any business who's exports are regulated by the Department of Commerce or the US State Department.
The sample manual consists of a 40 page template that companies can use to structure their own compliance programs and addresses issues like:
Training and Awareness Issues
Scope and purpose of a compliance program
Penalty awareness
Definitions, terms, and acronyms
Agency regulations
Types of exports
The purpose of compliance
Procedures
Identification, receipt and tracking of controlled goods
Restricted exports
Licensing policies
Sample control statements
Record keeping
Operations/Shipping and Receiving
Sample Policies
E-mail and electronic communication
Handling of foreign nationals, trade shows and meetings
International travel
Electronic data storage
Staff training
Internal monitoring
Commodity jurisdiction
Voluntary disclosure
Mergers and acquisitions
Sales and marketing
Contract writing
When compared to the hourly rate of a dedicated compliance employee or export consultant, you can save hundreds or even thousands of dollars by building your program around a professionally written core set of procedures.
Our Guarantee
Our goal is to help the personal and business exporters that fuel our national economy. With that in mind, if you're not completely satisfied with this product for any reason tell us and we'll work with you directly to resolve the issue.

Add to Cart
Normal Price: $299.95
Sale Price: $249.95

Requirements
This product is available for download only as a .pdf, .doc, or .txt file and requires a program that can read and access those file types.
Customer Quotes
Thanks Keeton. We are very happy with the product- it is well done and will be a great addition to our existing policy literature.
–Vanessa Black, Manager, Marketing & Communications, GMA Corp. – Industry: Protection/Disaster
Probably saved us about 40 hours worth of research and writing. That's about $4000, so definitely worth it for us.
–Michael T., company name withheld – Industry: Aerospace
As a compliance officer, this resource was invaluable. I was able to cut and paste the sections I needed without having to re-create the wheel.
–Tyrone Williams, company name withheld – Industry: RFID and Radio Frequency Monitoring
Our international exports are limited, but we know we had to have something in place for what we were doing. The manual gave us some good insight into what we needed to prepare for.
–Steve Papel, Dymo Construction – Industry: Construction and Demolition
We are in Aerospace. I did a google search for sample export compliance manual. You came up at the top. I was very impressed with the details in the procedures
–Jim R., company name withheld – Industry: Aerospace
I cannot thank you enough for making this Manual available. Our company is in the Armor business and in the process of getting registered with the US State Dept. I was the office administrator and must now step up to the plate to take care of the ITAR. I must say I am green when it comes to this. This manual has been a godsend to me. A wonderful education and a perfect way to get a professional start with export compliance policy.
–Sonya K., company name withheld – Industry: Armored Defense
Last week I ordered the sample export compliance manual download. Being a newly appointed compliance officer for my company this manual has saved me countless hours of research. Very good product.
–Kerry D., SVTC Corporate Security Mgr. – Industry: Industrial Technology